Lincoln Gets His Camping Wish!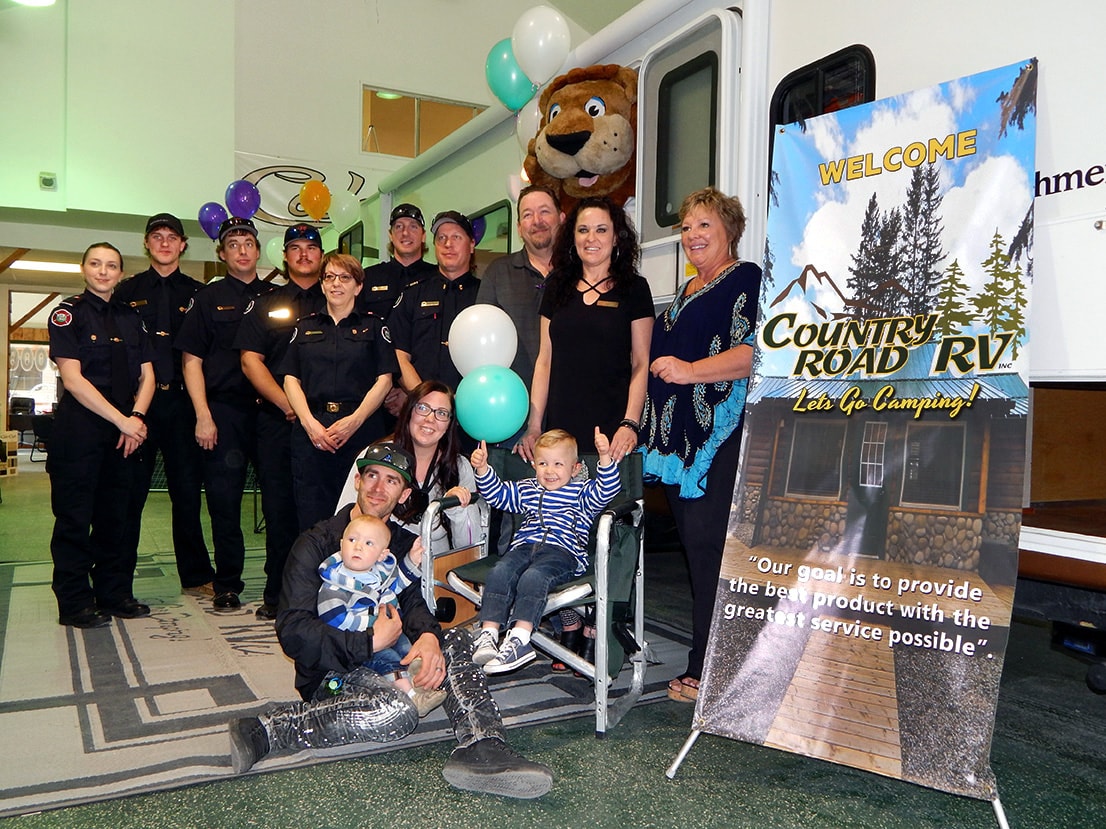 Lincoln's family, mom Paige, dad Nathan, Lincoln and Solomon in front of their new trailer with members of the Sundre Fire Department, Children's Wish Foundation mascot Roary the Lion and Country Road RV Management.
Little Lincoln has gone through a lot in his first three years of life. The first year was normal, then a few days after his 1st birthday checkup he was dealt a severe health blow. Despite getting through his checkup without issue, he developed a fever days later and was taken to hospital in Lacombe where he was eventually diagnosed with hepatoblastoma – a form of liver cancer.
"It was kind of a fluke they found it," says Lincoln's mom Paige of the hospital team looking into her baby's fever. "They were feeling around his stomach and felt a lump." That mass ended up being a 7 cm by 7 cm tumor on Lincoln's liver.  Surgery to remove the mass also removed about a third of his liver. His gall bladder also had to be removed. Compounding Lincoln's liver issues, the chemo therapy he had to go through made him lose his hearing.
Lincoln, who will turn 4 on July 1 has been in remission for three years, says Paige. He won't be considered cancer free until he's been in remission for five years.
Lincoln's wish for a camper was fulfilled by the Children's Wish Foundation of Canada and Country Road RV. Paige says the trailer will be perfect for Lincoln and the family, which includes dad Nathan and little brother Solomon. "Lincoln loves the outside, the dirt and the quiet," says mom. "If he could live outside, he would."
"Our hearts were filled with joy today as we granted Lincoln and his amazing family their trailer wish," says Sarah Bragg, Wish Coordinator for the Alberta/NWT division of the Children's Wish Foundation of Canada.  "It has been a real honour for everyone at Children's Wish Foundation of Canada to see the joy that a wish brings to such deserving remarkable families.  We couldn't be more grateful to the awesome team at Country Road RV, the Sundre Fire Department and the folks at the Donut Mill, for collaborating to create a special day for Lincoln."
As for Country Road RV's role in the wish fulfillment, "We love being a part of this," says Assistant General Manager Lisa Root. "In addition to giving back to the community, it's so heartwarming to see the smiles and excitement in the kids."
Although not completely decided on where it will be, Paige says Ram Falls in the west country will likely be where the family will do its first camping trip. Lincoln and his family will be camping comfortably in a great family-sized Coachmen Freedom Express trailer with bunkbeds for their boys to sleep in after a day of playing in the great outdoors.
The camper pickup day was made extra special by the Sundre Fire Department who heard little Lincoln loved fire trucks. The department showed up with a fire engine and took the family for a ride. Both Country Road RV and the Children's Wish Foundation extend huge thanks to the Sundre Fire Department.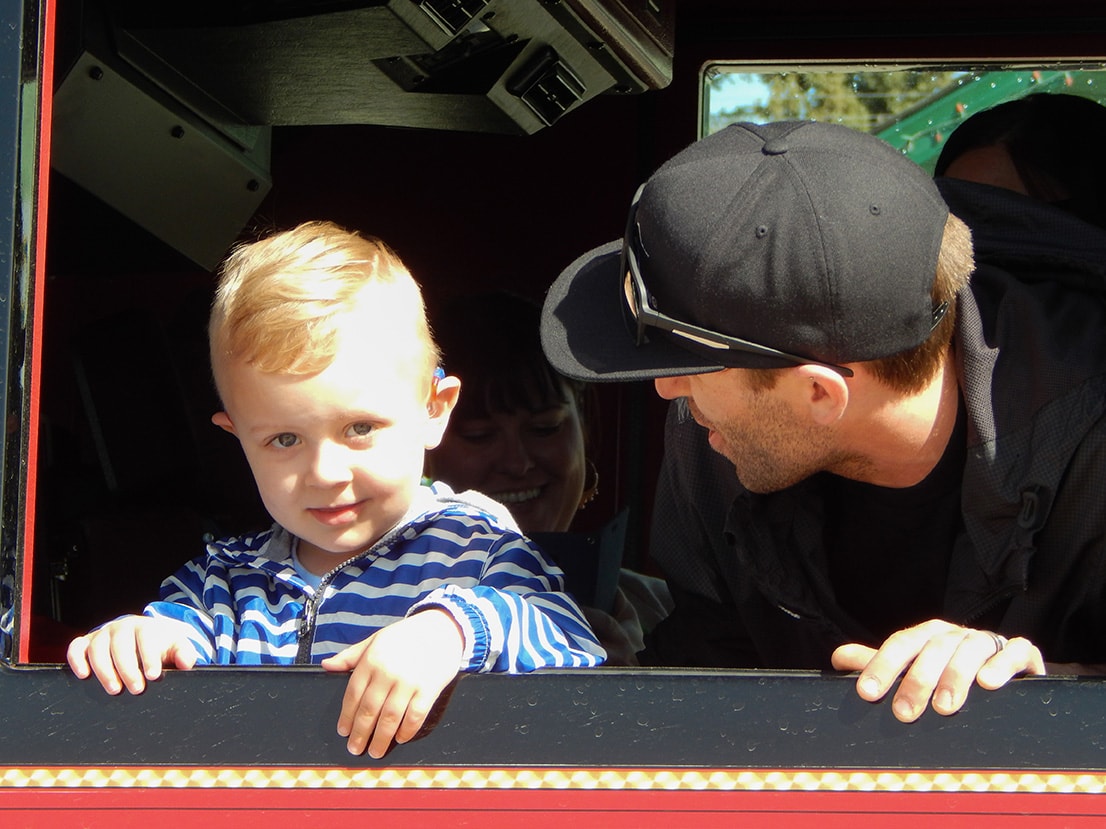 Lincoln and dad Nathan in the fire truck.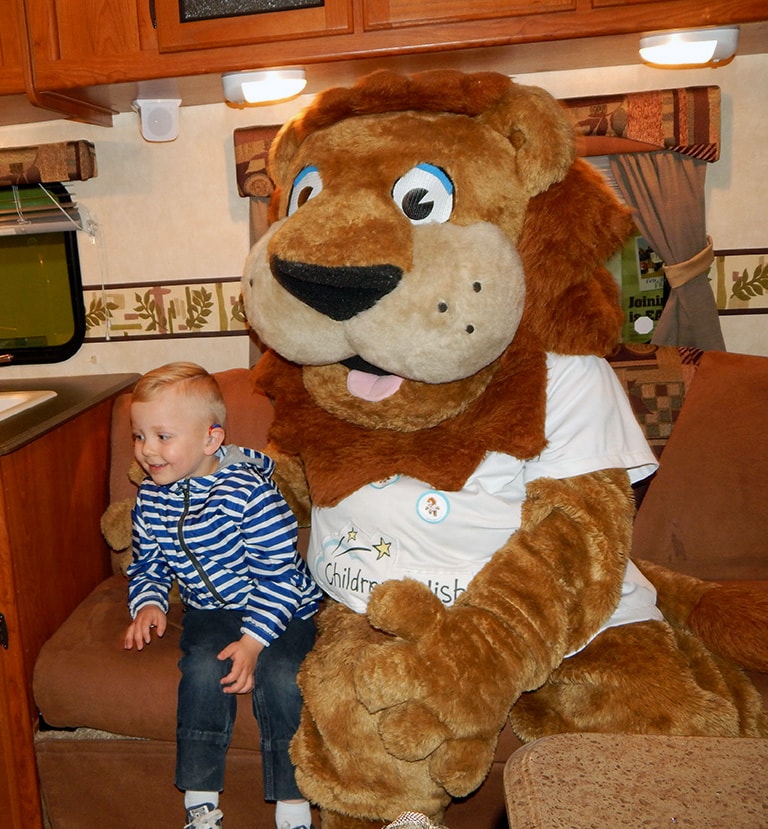 Lincoln and Roary snuggle on the sofa in the new trailer.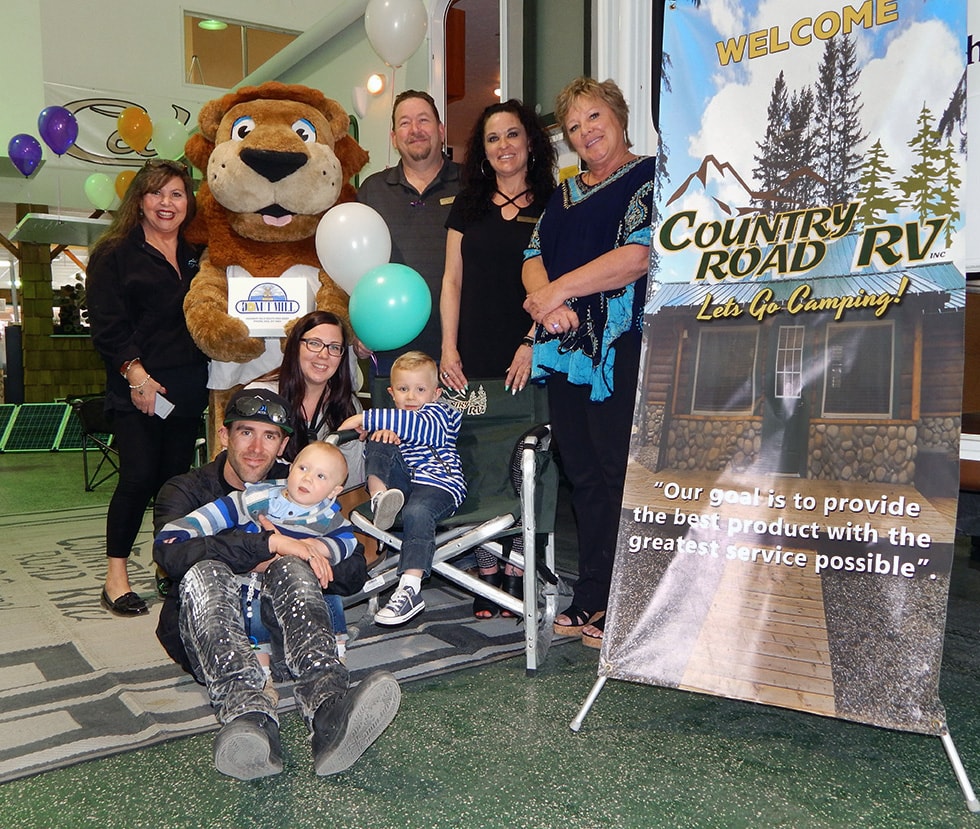 From left, back row: Sarah Bragg and Roary the Lion of the Children's Wish Foundation, Jason Doig, Lisa Root
& Ella Johnson of Country Road RV with Lincoln's family, mom Paige, dad Nathan and little brother Solomon.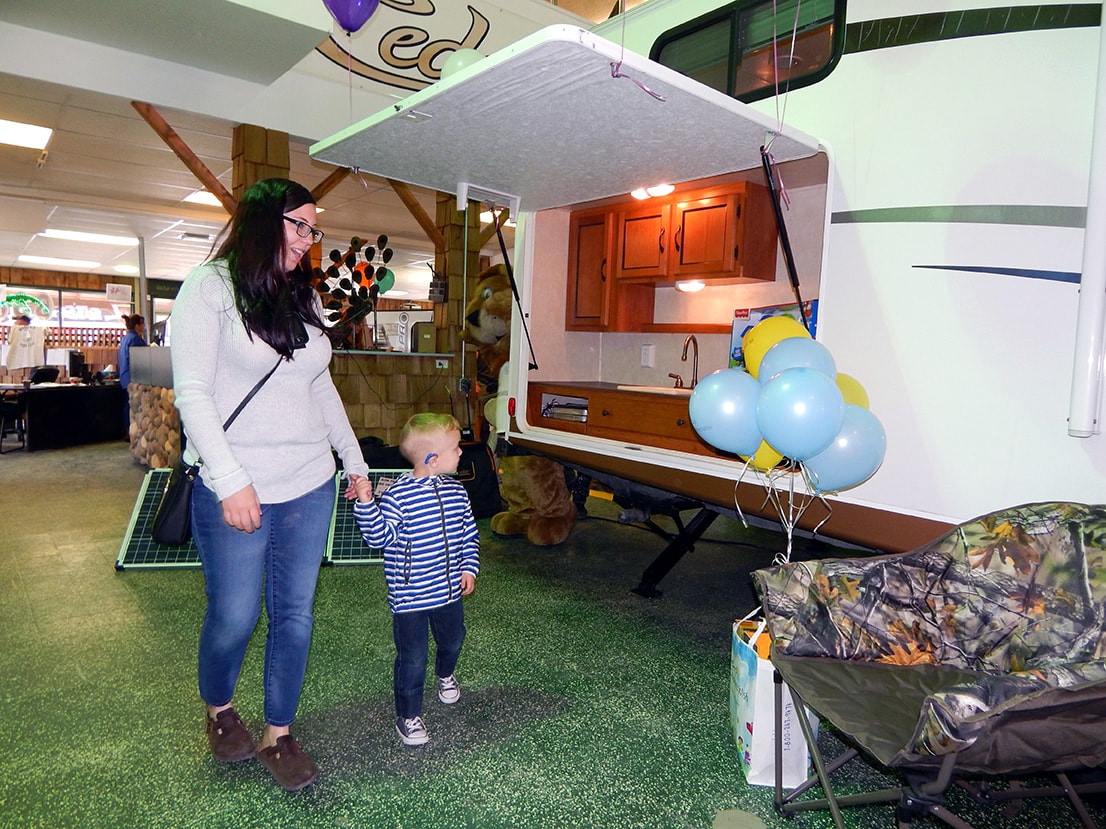 Mom Paige and Lincoln get a first look at their new trailer.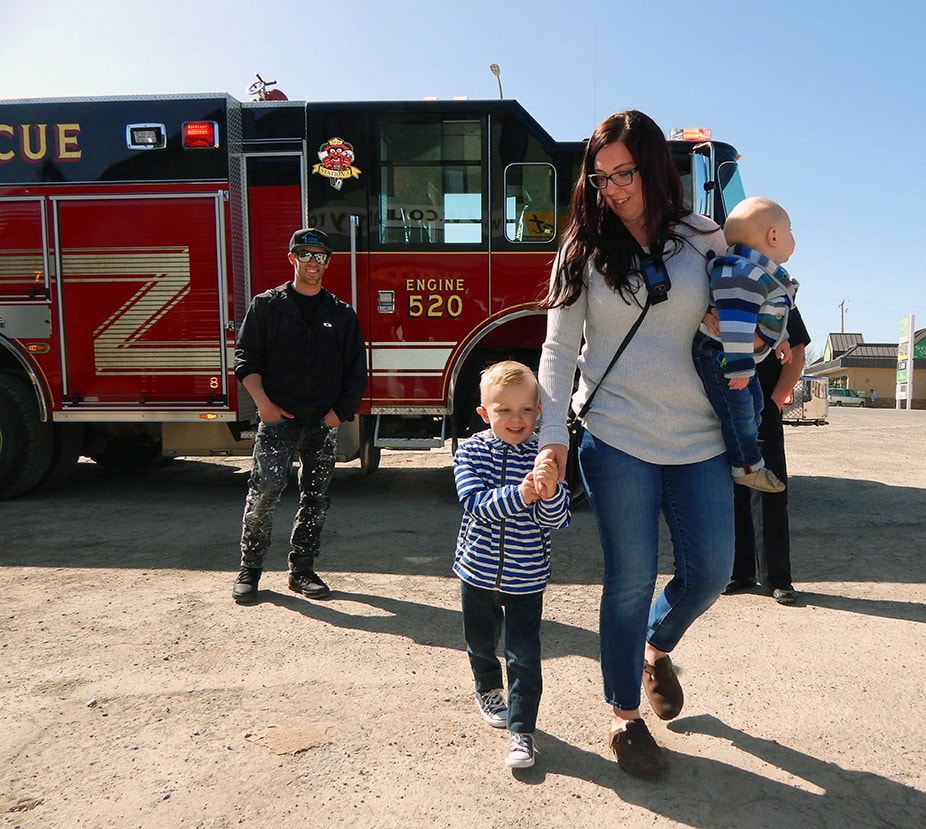 Lincoln and his family just after a ride in the Sundre fire engine.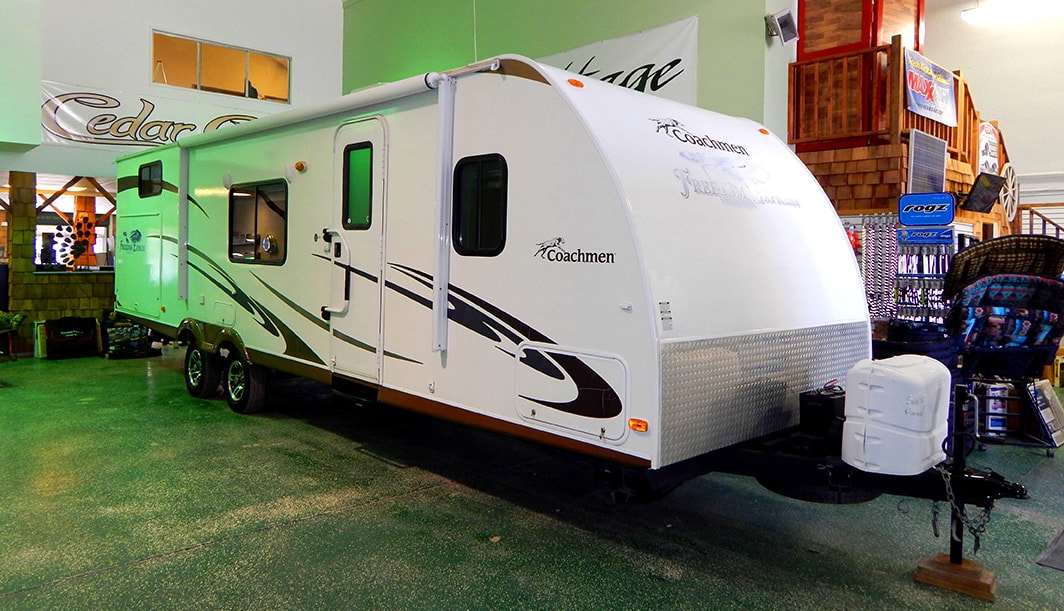 The Coachmen Freedom Express trailer for Lincoln and his family.